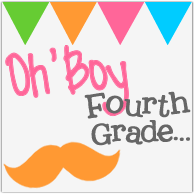 I'm linking up with Farley at Oh' Boy Fourth Grade
Currently I'm......
I'm loving May books. I ordered the calendars. I found them off of Mrs. V's busy bees and I bought two. Groupon is having a great deal on these right now. You can order two for 25.00. If you ordered two off of their site it would cost you about 40. 00. They 're so cute and you can personalize them. I ordered them as a gift for a couple of my teacher friends. Farley they do have MUSTACHE ONES. They are super cute and I thought of you!
Washi Tape who doesn't LOVE all the CUTE colors!! The endless possibilities!!
I can't wait to use my crayon sharpener. All the crayons go so dull in my room by November so this will keep them sharp all year!! YIPPEE!!